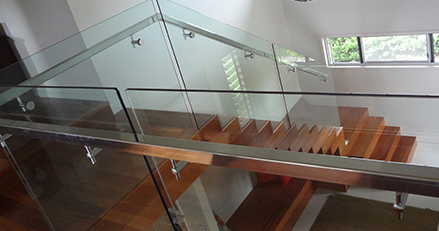 Ultrasafe Security System
Combining a high-strength extruded aluminium frame with 316 grade stainless steel mesh, Ultrasafe security doors and screens are custom made to exactly fit your doorways whether you have hinged doors, French or sliding doors.
Security screen doors by Ultrasafe are able to resist serious attempts at break-ins, so they not only deter would-be burglars but they also offer protection for you and your family while you are at home. Ultrasafe security door screens can also be colour coordinated to match your home.
Ezi Aluminium Systems
A Queensland-based manufacturer, Ezi Aluminium Systems supply proven architectural systems to suit all applications from residential housing, commercial shopfronts, schools and public buildings, high-rise apartments and offices.
With a strong environmental ethos Ezi Aluminium sources its materials as close to its customer base as possible so as to minimize carbon miles. Their range of residential and commercial doors and windows include sliding, stackable, bi-fold, louvre, double-hung and awning systems.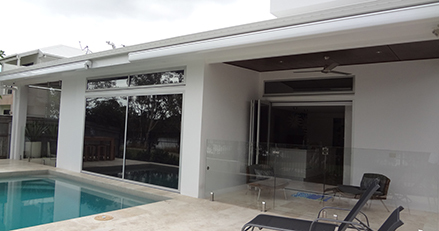 Breezway Altair® Louvre Systems
The world leaders in louvre windows, Breezway is at the forefront of louvre window design and technology. Breezway Altair® louvre windows combine a unique patented design, high quality materials, extensive testing and many years of proven field performance. With the widest range of product options, they are made to measure in Brisbane to suit your exact requirements.
Centor Architectural Hardware System
A multi award-winning designer and manufacturer of the finest architectural hardware systems, Centor's folding and sliding doors, screens, blinds and bi-fold door locks change the lifestyle feel of your home. Their reliable, secure and weatherproof bi-folding door systems open up entire rooms, bringing the outside in. The doors stack to the side, with no posts or fixed panels to block views or breezes.
Centor also has solved the problem of screening these large openings with their horizontal retractable insect screens. Openings as wide as 7.6m can be unobtrusively screened, with the operation requiring just the touch of a finger.
DORMA Australia Pty Ltd
The largest and most successful manufacturer and service provider of automated door solutions in Australia, DORMA is widely regarded for its technical brilliance and quality products. All commercial projects, regardless of size or budget, can benefit from DORMA's range of door hardware, automatic door operators and glass fittings and systems. DORMA leads the way in sliding door, swing door and revolving door technology. The sophisticated electronics offers you reliability, longevity and an array of options suitable for heavy-duty commercial operations. Call Rick at Aesthetic Glass to discuss your commercial automatic glass door needs.
Hard Core Security Screen Door
Hard Core offers superior security protection for your home with attractive designs. Available in various styles to suit the requirements of individual customers, Hard Core is a new, patented innovation in home security. They are made with an inner core of hard alloy steel encased in an aluminium shell. The inner alloy steel core means the doors are tougher than traditional security doors, while the aluminium outer shell gives the look of traditional wrought iron, but they won't rust or corrode. Hard Core security screen doors are available to suit both hinged or sliding doors.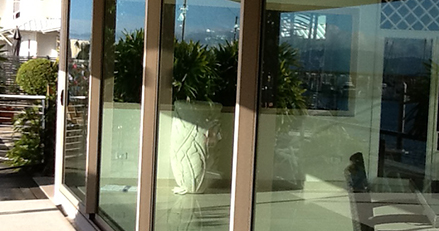 Lockwood ASSA ABLOY
An iconic name, Lockwood is the leading brand in the Australian locking industry with a well-established reputation for high-quality products. The Lockwood product range includes deadbolts, rimlocks, mortice locks, sliding door locks, window locks, door furniture, door closers and electromagnetic locking systems. Lockwood ASSA ABLOY'S unique high-security locking products have been designed to withstand the harshest of environments, whilst retaining versatility and adaptability. The brand's impressive range of specialist locking systems is based on a unique rotating disk locking mechanism, providing enhanced master-keying possibilities and superior resistance to corrosion, manipulation and attack.
NFK Glazing & Industrial Supplies
An Australian owned and operated company, NFK specialises in architectural hardware and glazing tools and accessories. NFK's innovative and brilliantly designed range of glazing accessories and hardware has enabled the ever-growing use of frameless glass in domestic and commercial applications. NFK Glazing and Industrial Supplies stock hundreds of stunning hardware fittings and they work directly with the designers to produce specialist hardware that fits clients' needs, both aesthetically and mechanically. All pool fence hardware fittings are exclusively manufactured from high quality 316 stainless steel and also offer electro-polished fittings for a more defined, elegant appearance.